Considering the rising temperatures and the proportionately higher electricity costs, an increasing number of users are shifting to solar attic fans. But why? Well, this is because they use energy from the sun to remove moisture from a room. Plus, their power is derived from renewable energy, allowing you to use the higher temperatures to your advantage.
Furthermore, thanks to the uniform air movement, the house remains cool but more significantly, it reduces electricity consumption. So, gone are the days of exorbitant electric bills; you no longer even have to depend on air conditioners for comfort.
However, one question remains unanswered. How will you choose the best unit from the many products available out there?
Solar Powered Attic Fan Solar Venting Stainless Steel Solar Roof Fan Vent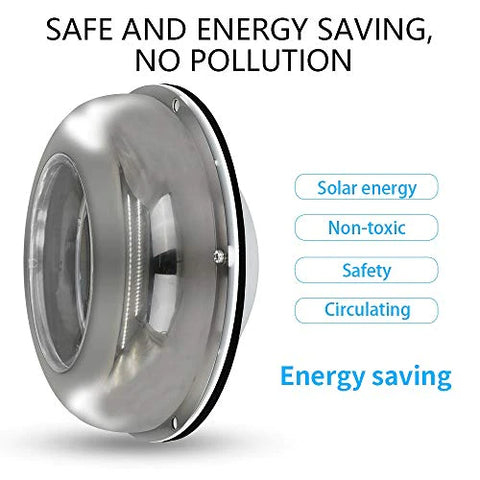 It has a nice balance of functions while the necessary upgrades have considerably improved performance.
[ Cost-Saving & Affordable ]- Fully automatic operation powered by solar energy, not only cools your roof, but also reduces the load on your air conditioning system, and cuts your cooling costs with low electric power expense.
[ Powerful & Built-in Battery ]- With inbuilt rechargeable lithium battery, the solar powered fan turns on as soon as the sunlight hits the solar panel, moves 11.6 cubic feet air per minute and keeps your roof, attic, or shed cool with fresh air circulation all-day.
[ Easy Installation ]- The solar attic fan has pre-drilled mounting holes, self-tapping screws for easy installation. It is a ready-to-use play solar fan, just take it out of the box, no extra wiring involved.
[ Well-Made Material ]- The material of this solar attic ventilator is stainless steel which provides longevity to the fan and prevents any rust from forming.
[ Application & Warranty ]- It is the perfect solar powered exhaust fan for sheds, roof, attic, RV, boats, cabin, etc. One year warranty, any problem or unsatisfied can be solved though contact the CS team.
Reason for recommendation
One of the most important considerations for customers is the cost. We're happy to report this fan reduces the load on air-conditioners while lowering the temperature to keep you cool. So, gone are the days of high electric bills.
What else does it have? Well, it's a powerful unit, thanks to the rechargeable lithium-ion battery. As soon as sunlight hits the solar panel, it sets the fan in motion, removing 11.6 cubic feet of air per minute. Therefore, you can breathe fresh air throughout the day.
Coming to the finer aspects, the body is made from stainless steel, providing longevity. Significantly, it's resistant to rust or damages, ensuring the fan won't break down all of a sudden. As a result, this product is perfectly at home on a boat, RV, or cabin.
Finally, installation doesn't take much time, thanks to the pre-drilled mounting holes and self-tapping screws.
Pros
Affordable solar fan
Efficient in low light condition
With built-in rechargeable battery, provides you with continuous operation all-day.
Cost-saving, operate ​entirely on solar energy and requires no electricity
Protect your home and family health
Easy installation
The next recommendation
Chicken Coop Cooler Fan, 100W Solar Powered Vent Fan System for Chicken Coops/Dog House/Shed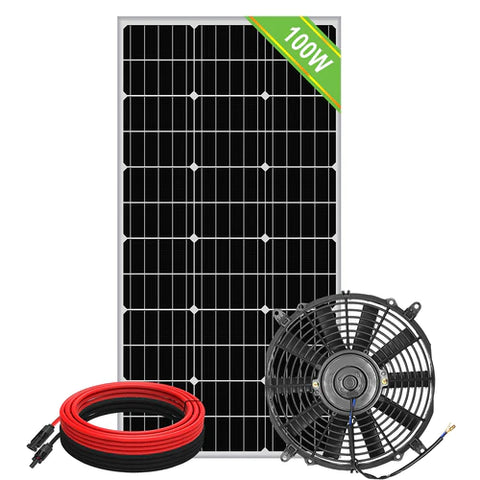 Trust us when we say it's one of the most sought after models available out there. So, let's check out the features on offer.
[ Perfect Cooling Solution for Chicken Coops ] In the daytime, the 100W solar panel can provide continuous power for the fan, and the fan continues to work to exhaust the hot air from the chicken coop;
[ Chicken Protection Design ] The fan blades are separated by plastic strips, so it will not harm chickens or other animals and people;
[ Low-maintenance Design ] Our luxurious comfort only needs one installation to ventilate and cool the chicken coop, and there is no need to maintain it again for several months;
[ Ideal for Small Animal Houses ] Our solar fan system is very suitable for outdoor chicken coops and hot summer temperatures, and provides stable airflow without overheating your dog, cat or animal habitat;
[ Cost-Saving ] The solar fan system cools your roof and also reduces the load on your air conditioning system, it will cut your cooling costs with 0 electric power expense.
Reason for recommendation

There's a prevalent notion that greater the size, more is the power. This fan puts all that to bed and delivers a powerful output in spite of its compact size. Although it isn't apparent, the dimensions are perfect for maximum airflow, and as soon as sunlight strikes the panel, the blades start moving.
We must highlight that it only works while the sun is out, so there's no provision for using it at night. However, that shouldn't deter you since you can experience fresh airflow and lower temperatures throughout the day. Furthermore, it cools the roof, reducing the need for air-conditioning and keeps your electric bill in check.
Although the instructions are a bit unclear, the installation is easy once you understand what to do. It comes with Z-mounting brackets while the designers have added pre-drilled mounting holes. Also, the self-tapping screws help to manage your work-load to a large extent.

Pros
Lowers cost
Compact
Powerful
Fresh air movement
Aluminum body
Solar Attic Fans Buyer's Guide
This is the buyer's guide section, where we tell you what areas to focus on when choosing a solar attic fan. You may want to write these down to quickly compare notes when looking at multiple models in the market.
Are you ready? Then, let's begin.
Solar Panels
When buying a solar attic fan, it's quite natural to check out at the solar panels. But what are the aspects to focus on? Primarily, you need to look at two things – adjustment and size. A larger size ensures that more solar energy is trapped by the panels, thereby enhancing performance.
However, the size of a panel has to be complemented by adjustment. As the sun moves across the sky, the degree and angle of sunlight reaching the earth changes. For that, you must be able to adjust the panels to receive maximum sunlight consistently.
Power
Gathering solar energy isn't enough, as the panels need to convert it into power. Needless to say, more power guarantees more rotation of the blades, which translates into faster performance. The fan can remove moisture and mold quickly while allowing fresh air movement for a comfortable experience.
Robustness
As seen with various products, there's no chance to compromise with robustness. The sun won't come out every day, and on these days, you may experience rain, sleet, hail, or snow. So, quality materials are essential to build the solar panel and prevent rusting or damage.
Mother nature is unpredictable, and it's best to prepare for varying conditions. Therefore, pick a unit that has focused on durability along with power.
Price
If a unit has all three aspects mentioned above, but you're unsure whether to make the purchase, it's probably because of the price. It's natural to pay more for a quality unit, but you shouldn't have to burn a hole through your pockets. The designers need to ensure reasonable pricing, making it convenient for the brand and users alike.
Having said that, it's also essential for buyers to be flexible with their budget.
Ventilation and air conditioning on the roof of the house.

Summary

That's it from us; there's nothing left to do but bring this review to a close.
Although we could go on some more, it's time for you to do some hard thinking. Take your time, consider all options, and only when it feels right, click on the 'buy' option to bring home your favorite unit.